The Shamrock Graphics Story
A lot of people ask us how we got here. Hold on tight, it might get weird…
Back in September 2013, we opened an electronic cigarette store in Derby, Ks. What started as a sales pitch from a sticker dealer, turned into us buying a printer to make our own. That's when Shamrock Graphics was born.
With the new printer – we could make stickers, banners, and T-shirts. We noticed early on people wanted large orders of shirts which weren't easy to create using a heat press. After buying a manual press and using that for a few years, we upgraded to an automatic screen printer (which is awesome)! Now we're able to speed the process up and offer more detailed designs.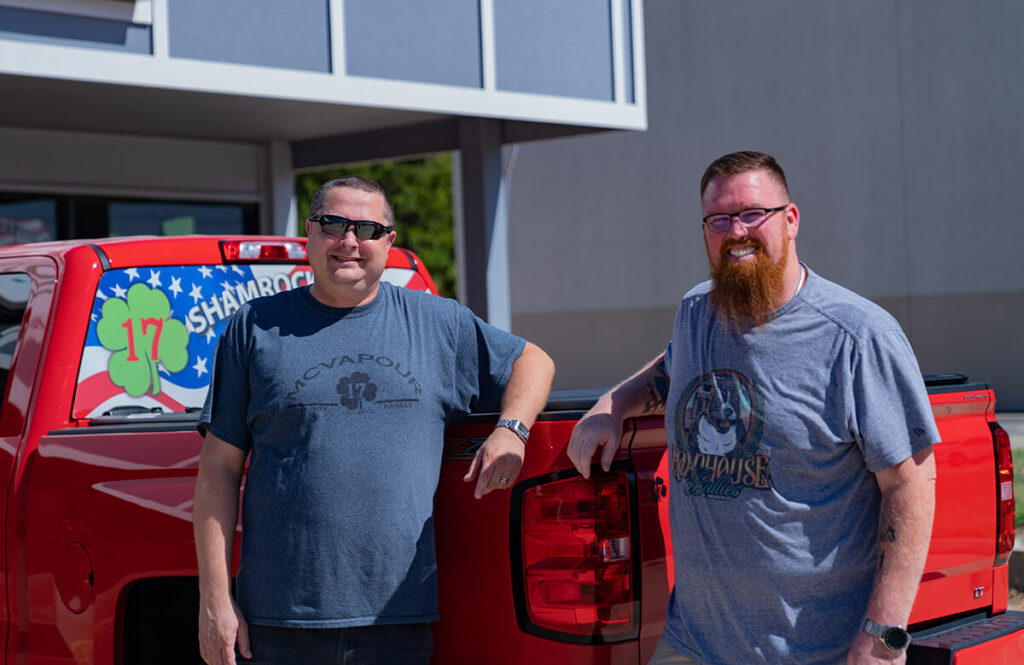 Meet the Graphics Guys!
Scott McHargue
Scott was born and raised in Wichita, KS. After high school, he attended Cowley Community College and received an Associates of Arts degree. After he took some time off and worked full-time at QuikTrip, Scott decided it was time to go back to school. He attended Kansas University where he achieved a Bachelor of Social Welfare.
Scott moved back from Lawrence and soon found he was looking for something else. One wild afternoon, Byron called Scott and asked if he wanted to partner in an E-cig business. Thinking he was completely crazy, Scott went for it and they partnered in the summer of 2013.
Byron McNary
Byron was born in Biloxi, Mississippi on Keesler Air Force Base. He was raised mostly in Butler County. After high school, Byron joined the US Army and served 7 years. After leaving the military, Byron was in law enforcement for 10 years. During this time, he earned an Associate's degree in Criminal Justice. Byron then went on to get his Paramedic certification and work for 6 years in EMS.
After noticing a local retailer's new business steadily growing back in 2013, Byron was quick to pick up on his own business opportunity. After contacting Scott, the two became business partners. Shamrock Graphics has now been running strong since 2013!